Exclusive Gift Packing Services
The word is 'special'
So you've spent hours planning the minutest detail of marriage ceremory of your son, daughter or one of your dearest friend.

You maybe ticking off essentials on your long list of things that need to be arranged for the big anniversary party you planned.

It is then that you suddenly realize that you have omitted including gift packing presents, for the 25+ odd guests on your list of invitees. Gift packing for such a large group of guests is not a mean task (and when I say 25, I'm being a little optimistic)!

So how do you handle the Herculean task of gift packing presents for all your guests?
Delegate it to the experienced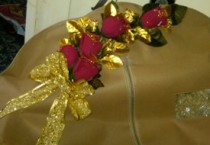 You may be tempted to leave the preparation of the gifts to well-meaning relatives or friends that have offered their help. However, remember that though they may have the best of intentions, packing gift for marriage or special occasions requires a special touch that only professionals know the secret of. You definitely do not want to leave the job to heavy-handed warehouse workers or forklift operators that are content to wrap your gifts in shoddily cut paper and industrial amounts of tape. Such gift packaging are not for special events such as weddings and anniversaries (though they have other great uses). Special occasions warrant the best, something unique and beautiful, which your guests will not forget in a long time.
When you're making sure that every element for an occasion is perfect, be sure not to underestimate the significance of a well-wrapped gift. This is where we come in! Gift packing services like ours have tons of experience and ideas in preparing gifts for occasions such as weddings, anniversaries, bridal showers and other equally important occasions, such that they would leave an indelible impression on the recipients.
People generally do not pay too much importance on gift packing. However, the presentation of gifts can be far more important than the gifts themselves. When you're giving something to people you cherish, you want them to know how much you love and value their presence in your life. You surely want them to appreciate what you give them. People are surely going to appreciate an aesthetically and professionally wrapped gift and the effort that goes into it?
What is a professional touch?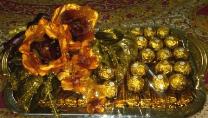 Professional gift packing is different in many ways from regular wrapping of gifts in colorful paper. It involves more than just typing a bright ribbon around a present. It adds elegance and a certain charm to the appearance of the gift as a whole. Below are discussed the main aspects of professional gift packing which make it such a wonderful option for every occasion.
Customization: Professional services will have a vast array of stationery and wrapping papers in patterns and colors to match the theme of your wedding or your trousseau; ribbons and bows in various fancy fabrics such as tulle to go with them as well; decorative tote bags and pouches, tissue paper for that added luxury in the gifts and boxed cards and other ornamental elements that complete the personalization.
Uniqueness: Our professional gift wrapping services have their own special signature touch for the gifts we wrap. This may be a special theme wrap, or a typical flourish of the ribbon, a special card insignia, eco-friendly stationary, green fabric wrapping and alternatives to bows such as artificial flowers or jewels for added elegance. These touches will help to set your gifts apart.
Precision: We have gift-wrapping experts working for us. That of course means there is a neatness that we can give you as professional services, since we work with the right tools and precision instruments. You will find clean edges, perfect folds, un-frayed ribbon edges, just the right amount of curl in the ribbon etcetera on the gifts we wrap for you and we are absolutely careful when transporting them to you.
Some ideas for themed gift packing that match the occasion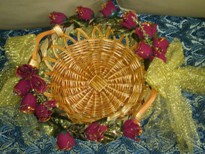 Can't think of gift presentations to match your wedding or anniversary theme? If you go through Pinterest boards you will find plenty of ideas for the ideal coordinated wedding and anniversary gift packing. Tissue-flower topped favor boxes are great ways to complement almost any kind of bridal shower decorations.
For a Victorian themed wedding, black ribbons and lots of lace and tulle would be the style to go for and elegant gold-lined labels for gifts, with ornate custom-made messages will complement the style perfectly. Lots of vintage paper and faux pearl accents will add a fine touch of elegance.
A floral themed wedding will need plenty of floral motifs, with patterned paper with your favorite or seasonal flowers. An eco-friendly floral theme can have green wrapping; brown paper and baker's twine can also be made to look elegant and socially responsible.
A modern themed party will need uncluttered decorations. Gifts and boxes will look elegant with minimal ornaments. Luxury paper, simple yet elegant ribbons and plenty of solid colors such as black and white can work well for modern parties.
The word is 'special'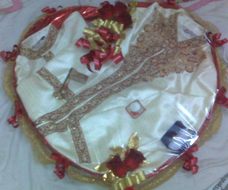 Your wedding, your first anniversary or even the Silver Jubilee celebration are special occasions in your life. You want them to be remembered as special by everyone that comes to celebrate with you. Every element of the day has to be perfect.
That of course includes the gifts that you prepare for guests or for bridesmaids and the best man or for wedding trousseaus. The gifts you give them can leave lasting impressions on the minds of your guests. A well-wrapped gift can add elegance and presence to any occasion!
You don't have to take us on our word…you can go through our video above or take the word of our customers and reviews! Learn from them how pleased they have been with our service. Confirm that our gift packing services are what you want, and then contact us to help you plan that perfect occasion you'll remember for the rest of your life!
Are you recently planning a wedding? Avail of our gift packing services, with our exquisite personal touch. You can talk to us and let us know just how you want it, and we can help you create the perfect gift for your relatives or guests.
---
You can also download our 'Gift Packing App' for Android Mobile Devices. You can get to avail of special offers from the APP, and Gift Packing Articles with Tips & Tricks of Gift Packing.